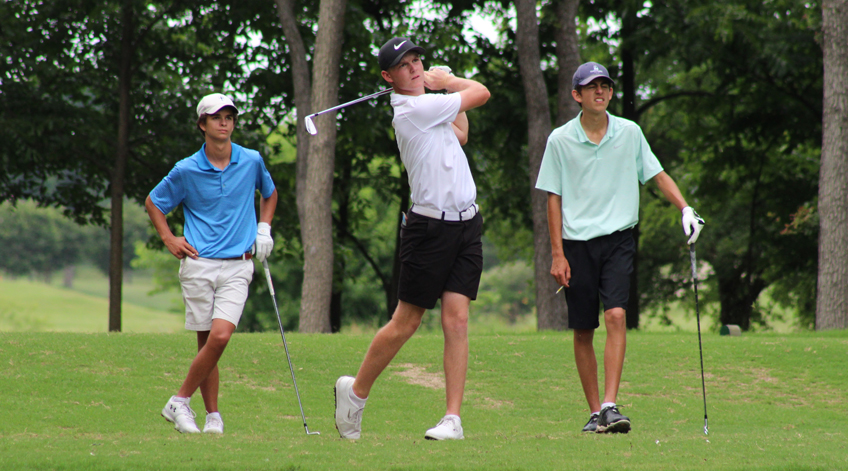 The first month of the summer has come to a close on the Texas Junior Golf Tour, and the month of June featured some high profile tournaments, low scores, new champions and repeat winners. Here are some of the highlights:
Dial, Zweig Capture Titles @ DFW Elite
Ethan Dial started his summer off with a bang, capturing his first major victory on the TJGT in impressive fashion, shooting a blistering 7-under-par total at the DFW Elite at Southern Oaks for a seven-shot victory over Alejandro Quintana and Patrick Miller. Dial started the final round with a slim one-stroke lead on the field, but took control of the tournament early, making multiple birdies and increasing his lead en route to a 4-under 68 in the final round.
In the Girls Division, local phenom Avery Zweig added to her already packed trophy case by capturing the title with another strong showing. Zweig cruised through Round 1 with a 1-under 71, and fought through some difficult conditions to finish at even par for the tournament, grabbing the champions trophy by a four-shot margin.
Nixon Prevails at The Patriot Major
After more than year of shooting low scores and coming up just short in major tournaments, sophomore Mia Nixon captured her first major victory of the summer at The Patriot Major at Stonebridge Ranch. Nixon actually started the final round a shot behind the leaders, but played steady and solid all day, firing a neat 1-over-par 73 under the hot Texas sun, good enough for a 3-stroke win.
In the Boys Division, multiple-time winner Braxton Neiman grabbed another junior golf victory in a playoff over two others. Neiman, Derek Winn and Nick Hance all stood tied after 36 holes, and in the sudden-death playoff, Neiman hit his tee shot on the second playoff hole (a par 3) to tap in range, and calmly rolled the putt in after Winn and Hance both missed their birdie efforts.
Old & New Faces Claim Victories
University of Kansas commit Ellie Roth earned her 3rd victory in the last 12 months on the TJGT by capturing the Prestonwood Hills Classic, while newcomer Luke Lowetz won the boys division in come-from-behind fashion.
In Houston, Kash Lehen and Tristan Gabbard captured titles at the TJGT Preview @ Cypresswood, while Tobey Wills and Juliana Hudman slogged through the rain to come out on top at the Sweetwater Summer Challenge.
The TJGT made its debut at Landa Park Municipal GC in New Braunfels this month, with Travis Aldrich and Zayla White capturing victories over a packed field.
In Mansfield, TJGT veterans Michael Gower and Aysis Azarcon both shot under par for two days to earn their victories at the Tangle Ridge Summer Blast.