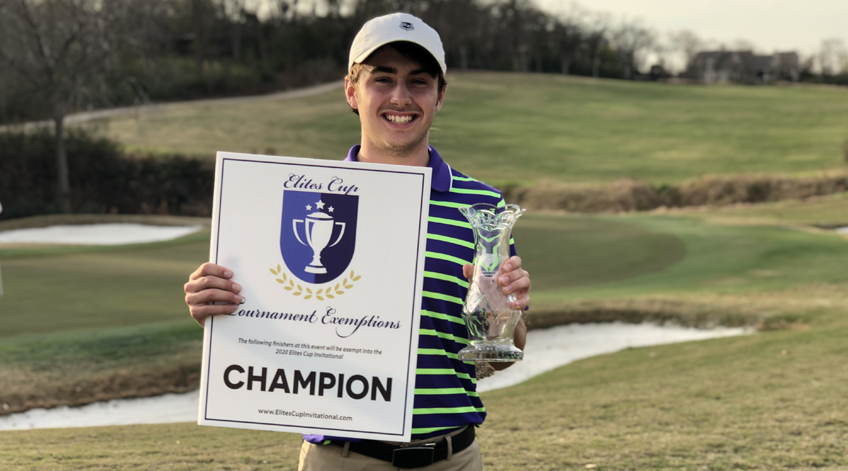 [DEC 7-8 | BRYAN, TX] On his 10th hole of the final round, something went very, very wrong for The Woodlands sophomore Will Jordan. His 10th hole was the par-4 1st hole at The Traditions Club at Texas A&M University, a relatively simple dog-leg right par 4 with ample room to the left off the tee and a fairly benign green. And yet when he finally tapped in, it was for a triple-bogey 7, when the rest of the field played the hole barely over par.
Luckily for Jordan, it didn't matter in the slightest.
The sophomore was on a tear all weekend, and the surprising triple-bogey not withstanding, he played almost flawlessly over the 36 holes, opening up with a 5-under-par 67 in the first round that included a hole-out eagle on the par-4 14th hole and only 1 bogey. The triple bogey on the second day may have been more costly under regular circumstances, but Jordan had already made 3 birdies in his second round, and would go on to make 2 more after the triple.
His two-day total of 5-under is the lowest in tournament history, and his 9-shot victory is also the largest on record for the Traditions Fall Invitational.
Finishing in a tie for second play were two other Houston youngsters – freshman Kris Kuvaas and 8th grade Byungho Lee, both of whom finished one shot clear of the two tied for fourth – Fort Worth's Ethan Dial and The Woodlands' Lucas Wright.
In the Girls Division, University of Houston signee Delaney Martin continued her recent dominance on the TJGT by notching her third victory in the last calendar year (she has also notched nine straight Top 10 finishes dating back to November 2018), needing one extra hole to do it after finishing regulation tied with Vandegrift senior Kaylee Vesely.
Both Martin and Vesely were a few strokes off the Round 1 lead of Irving 8th grade Sonia Hao, but experience and steadiness proved vital for both young women, as they closed strong in windy conditions Sunday afternoon, jumping up into a tie for the lead and forcing a playoff, in which Martin one on the first hole.
Rounding out the Top 5 in the Girl's Division was Fort Worth's Jacee Fields, Coppell's Chelsea Romas and Georgetown's Mattingly Palmer, all of whom finished tied for 3rd, just one shot out of the lead.
As champions, Jordan and Martin both earned invites into the 2020 Elites Cup Invitational, a hyper-elite, small-field event consisting of winners of top events on the TJGT and a select few highly-ranked regional golfers.