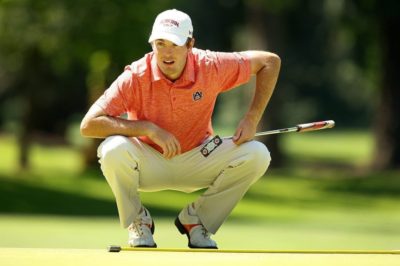 TJGT Alumni Spotlight
Welcome back to the TJGT Alumni Spotlight! In this week's spotlight is TJGT alumni, collegiate golfer at Auburn University, and now professional golfer, Matt Gilchrest!
During his time in junior golf, he took home five AJGA career wins and several TJGT championships. Gilchrest was such an accomplished junior golfer that he was not only named TJGT player of the Year one, but twice. He competed in 38 tournaments with the Texas Junior Golf Tour. Out of those events, he carded 13 championship trophies, 4 runner-up finishes, and 10 Top-5 finishes. It's no surprise that Matt went on to be a stand-out collegiate player.
His time as an Auburn Tiger was also quite impressive. Towards the end of his career he competed in the 2017 Barbasol Championship where he fired (69-69-71-65) for a total of 10-under par.  Below are a few of his Auburn Career Highlights:
2017 Byron Nelson Award finalist
2-time Srixon/Cleveland Golf All-America Scholar (2016 & 2017)
2017 All-NCAA West Lafayette Region
2017 SEC Community Service Team
2015 All-SEC first-team
2015 Ben Hogan Award Watch List
2015 NCAA All-Southeast Region
2014 All-SEC Second Team
2014 Freshman All-SEC
2015 Mobile Sports Authority Intercollegiate Co-Medalist
2014 UK Bluegrass Invitational Champion
SEC Golfer of the Week (Feb. 11, 2015)
2015 SEC Men's Golf Community Service Team
Career low: 64, tied for the second lowest round in Auburn history, in the Amer Ari Invitational second round on Feb. 6, 2015 & in the Inverness Intercollegiate first round on Sept. 19, 2016
17 career top-10 finishes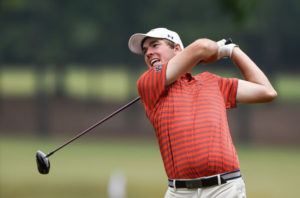 Here's a little more about Matt! You can also check out his Web.Com professional player profile below!
https://www.pgatour.com/players/player.50666.matt-gilchrest.html
Name: Matt Gilchrest
Age: 23
Hometown:  Southlake, Texas
High School: Southlake Carroll, Class of 2013
College: Auburn University
Favorite Golf Course: Pine Valley / Augusta National
Favorite Golfer: Tiger Woods
Biggest Golf Accomplishment:
-Earning his 2019 Web.Com Tour Card
What part of your game are you always working on?
"I actually work on not over working one area. It's easy to too into one facet of the game and then the other parts lag behind"
What advice would you give to junior golfers?
"Don't worry too much about college recruiting and how to "play their game". Just play well and play in big events, then they will chase after you."
What's your favorite TJGT memory?
"Traveling all over the state with my dad in an effort to be player of the year….which we won. Thanks again dad!"