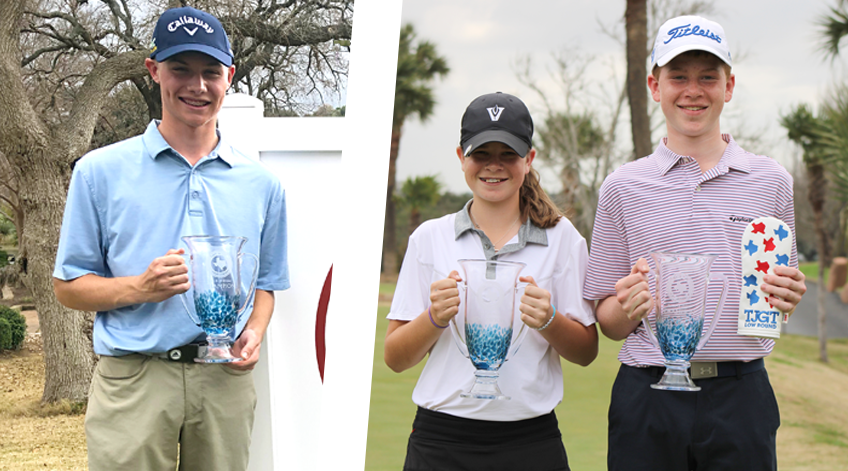 View Full Leaderboard | View Tournament Photos
[FEB 8-9 | Horseshoe Bay] For Clark High School sophomore Garrett Endicott, the 2019 golf season was filled with narrow misses. Since April of last year, Endicott has notched 6 Top-10 finishes in elite regional a national events, including runner up finishes at TPC San Antonio this summer and the 2019 Elites Cup Invitational. But the one thing missing was that championship trophy – he had been close multiple times, but had not been able to capture that elusive title.
At the 2020 Tour Championship in the Boys 15-18 Division, Endicott emphatically banished those demons.
Standing on the 17th tee during the final round – a difficult par 3 – Endicott needed to play his final 2 holes in 1-under to capture the title. When he rolled in his birdie putt on 17, it was all but secured. Then the par putt dropped on the 18th green, and Endicott stood at the top of the leaderboard, 1 stroke ahead of the fast-charging Byungho Lee (the 2019 TJGT Player of the Year) and Southlake's Jack Beauchamp.
Endicott's 5-under-par total of 139 is one of the lowest tournament totals in the last decade, second only to current Oklahoma University All-American Garett Reband, who shot 6-under at the 2014 Tour Championship.
Lee and Beauchamp finished 1-stroke back of Endicott. Rounding out the Top 5 in the Boys 15-18 Division was Frisco's Shivam Patel and Dallas' Christian Clark. In all, there were 18 under-par rounds carded (a tournament record), and two 5-under-par rounds of 67, shot bu Argyle's Trent Pollard in Round 1 and Beauchamp in Round 2.
In the Girls Division, it was Austin eight-grader Sydney Givens who grabbed early control of the tournament and refused to let go. Playing on the Apple Rock course at Horseshoe Bay, Givens opened up the tournament with an even-par 72 to grab a 1-shot lead after Day 1. Given's was hot and cold on Day 1, bogeying her first hole before rattling off 4 birdies in an 8-hole stretch in the middle of the course. She stumbled late though, making a double-bogey on her 16th hole, but righted the ship with 2 pars to finish her day.
Round 2 was much of the same for Givens – she was able to negate a couple early bogeys with nice birdies on No. 6, No. 12 and No. 16 en-route to a 2-over-par 74, good enough to capture the title – her first major title on the TJGT – with a 2-shot victory.
Rounding out the Top 5 in the Girl's Division was Plano's Summer Lee and The Woodlands' Avery Blake, who finished second and third, respectively, and Savannah Barber (Fort Worth), Kayle Vesely (Austin) and Vera Yi (Austin), who finished in a tie for fourth.
In the Boyd 11-14 Division, The Woodlands' Austin Hofferkamp secured a 1-shot victory with a masterful 1-under-par 71 to vault up the leaderboard. Hofferkamp, who started the day 5 shots behind the leader, bogeyed 2 of his first 7 holes before going on a tear in the middle of the round, carding three birdies in a four-hole stretch to get to red figures for the day. He finished with six straight pars to capture the title.
Austin's Ethan Dufresne finished second, and Montgomery's Brecken Franklin finished third.