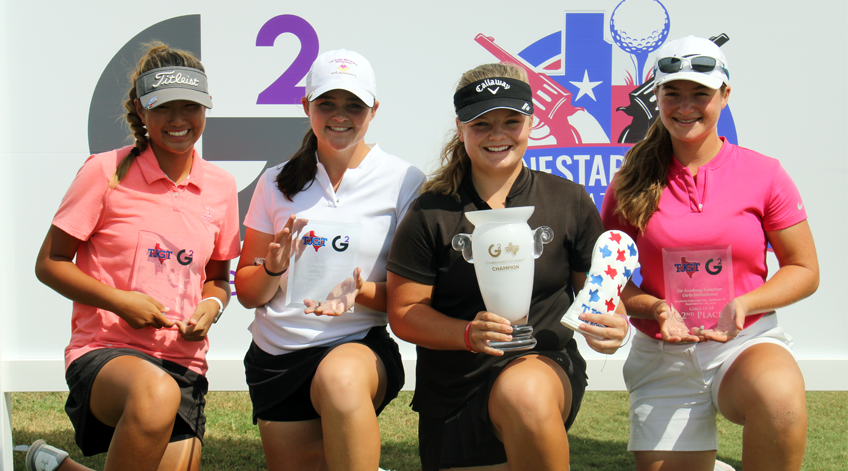 Click here for tournament photos
[SEPT 21-22 | BURLESON, TX] Sometimes it doesn't take heroics to win a golf tournament, sometimes all it takes is solid play when everyone else is struggling. And at the G2 Academy LoneStar Girls Invitational, that is what it took for McKinney's Avery Zweig to capture the 2019 title.
Her 5-under-par total (69-79=139) was impressive on a Southern Oaks tract that played over 6,000 yards among a swirling, 20mph wind, but what it really came down to was Zweig's play on a particular stretch of holes each day that really separated her from the field.
The final 3 holes at Southern Oaks are a brutal stretch, especially the par-4 16th, with trouble everywhere off the tee, in front of the green, and surrounding all sides. For the tournament, the field averaged more than 2-over-par each day on that stretch of holes, and a total of 3-over-par each round when you add in the difficult 13th, which played dead into the wind each day. That is a total of 6 shots lost, on average, by each player for the tournament on those 4 holes. Zweig, however, played those four holes in 1-over-par for the tournament, and parred all four them on the final day, when it mattered most.
Zweig also made 9 birdies for the week, which was certainly impressive in the high winds, but her steady play on the toughest holes was what really brought the trophy home.
Finishing right behind her at even par for the tournament was Plano senior (and Kansas Jayhawk commit) Ellie Roth. Fort Worth's Savannah Barber finished in solo 3rd, while Plano's Summer Lee and Magnolia's Halle Whitney rounded out the Top 5.
To see the full leaderboard results, click here.