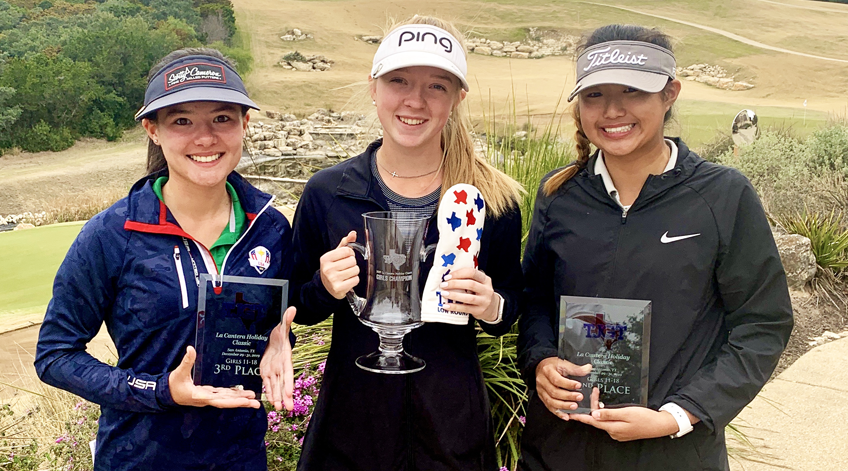 Austin's Darrelyn Webster has added another significant trophy to her growing mantle after capturing the 2019 La Cantera Holiday classic in dominating fashion. Webster, who won her first TJGT Elite Series event over Thanksgiving at TPC San Antonio, is showing that when the conditions are toughest and the courses are hardest, she thrives.
In gale force winds and low temperatures during Round 1, Webster was only 1 of 4 girls to shoot 80 or better, and the Anderson High freshman's 3-over-par 74 felt more like a 66 or 65 on the Palmer Course at La Cantera. From there, Webster only extended her lead over the next two days, capping the tournament off with a 1-under-par 70 in the final round, which included a stretch of 4 birdies on five holes in the middle of the back 9.
The under-par round was one of only 2 for the entire tournament, and her 8-over-par total for the week was good enough for an eight-shot victory. The win again earned her a spot in the 2020 Elites Cup Invitational, an invitation she already secured with her victory at the Thanksgiving Showdown in November.
Rounding out the Top 5 in the Girls Division was Plano's Summer Lee, Austin's Mimi Burton, Plano's Ashley Liu and Seabrook's Amelia Guo.
In the Boy's division is was another high school freshman who dominated the field. Katy's Treed Huang matched Webster's opening round with a 3-over 74 of his own, and from there went on a tear, shooting 72 in the second around and then a blistering 2-under 69 in the final, leaving all other competitors in the boys division in the dust. His 2-over-par total for the tournament earned him a 20-shot victory, one of the largest margins of victory in tournament (and tour) history.
The win was Huang's first Elite Series victory on the TJGT, and he also secured his invitation into the 2020 Elites Cup Invitational, which will be hosted in July.
Rounding out the Top 5 in the Boys Division was Austin's Kevin Mu, Helotes' Levi Keith, Universal City's Bret Gray and Houston's Dennis Butts.