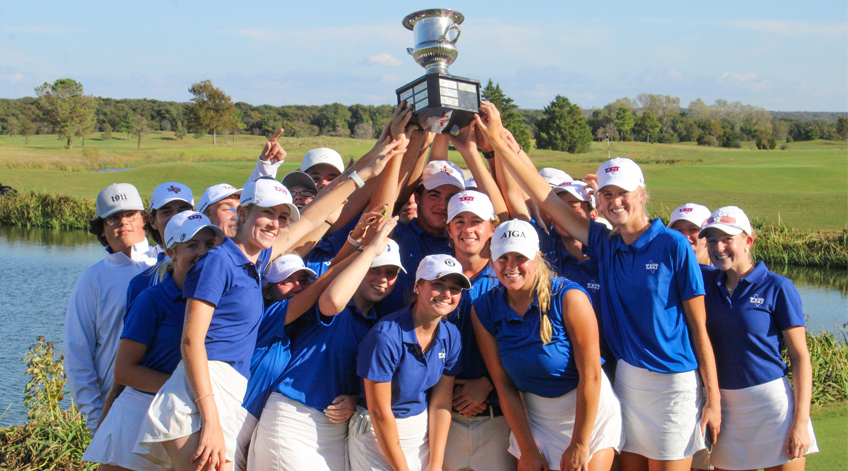 View the Leaderboard Here | View Photo Gallery Here
[WinStar Casino & Resort | Oct 23-24] After a four-year drought, Team TJGT once against claimed victory at the annual Red River Challenge against Team OJGT (Oklahoma Jr Golf Tour). In the 17th playing of the event of this point-style event, which took place at WinStar Golf Course in Thackerville, OK, Team TJGT won the team event by a score of 16.5-13.5.
After Round 1, TJGT trailed OJGT by 1 point, but rallied on day 2, winning 9.5 of the available 15 points, including a clean sweep among the girls' teams, which was crucial to the 3-point victory.
In the individual portion of the competition, both boys and girls divisions ended with multiple-hole playoffs to decide the solo champions. In the girls division, TJGT teammates Kate Strickland and MaKayla Tyrrell squared off in a 2-hole playoff, which Strickland capturing the title with a birdie on the second playoff hole. Rounding out the Top 3 in the girls division was OJGT's Olivia Coit.
In the boys division, three players finished regulation tied at the top – OJGT's Ben Stoller and Parker Payne, and TJGT's Zach Fraizer. After all 3 made birdie on the first playoff hole, Stoller claimed victory by rolling in a birdie putt on the second playoff hole. Rounding out the Top 5 in the boys division were TJGT's Ethan Parker and OJGT's Asher Whitaker.