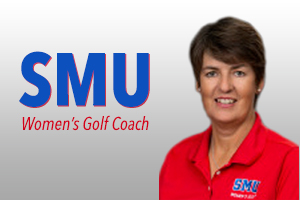 Two-time regional Coach of the Year and four-time conference Coach of the Year Jeanne Sutherland from SMU will be speaking at this years Lonestar Girls Invitational.
Sutherland, who had spent 15 years at the helm of the Texas A&M women's golf program, came to the Hilltop after three years as head professional at Vail (Colo.) Golf Club.
In 2014-15 Sutherland led SMU to its third straight postseason bid. The Mustangs won the inaugural East/West Match Play Challenge in Ann Arbor, Mich. in September. After finishing fourth in stroke play, SMU defeated Ohio State (3-2) and UC Irvine (3-2) to claim the tournament title. The Mustangs went on to place second at the American Athletic Conference before advancing to the NCAA Regional in St. George, Utah.
The 2013-14 campaign saw Sutherland lead SMU to another NCAA Regional berth in San Antonio. Additionally, Sutherland coached sophomore Jenny Haglund to the inaugural American Athletic Conference individual championship. The Mustangs took took third at the conference championship.
In the 2012-13 season, Sutherland led the Mustangs to three team titles, the most since 2003-04. Two Mustangs took home individual titles – Alexandra Rossi won in her first collegiate event at the Chip-N Club Invite and Melanie White broke the event record at the Johnie Imes Invitational. SMU went on to play the NCAA Regional in Norman, Oklahoma.
We honored to have the opportunity to have Coach Sutherland at the Lonestar Girls Invitational this year, and hope you can make it out and meet her as well.
The tournament will be held September 12-13, at Sky Creek Ranch Golf Course in Keller, Texas.
See you there!