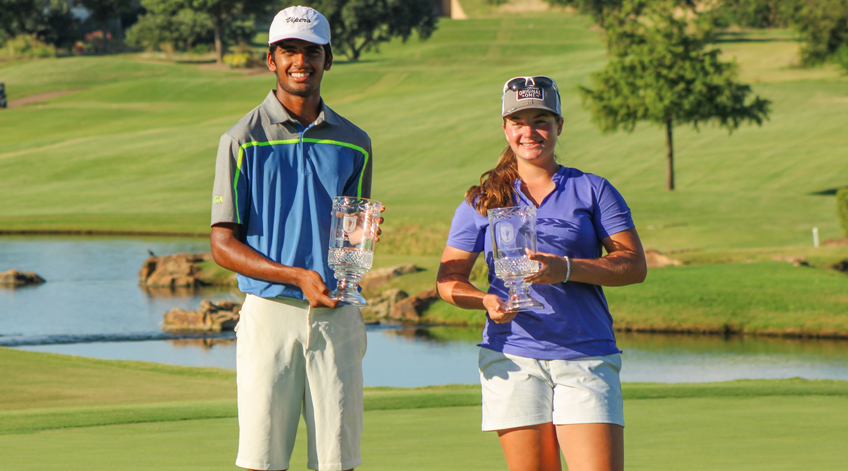 [Las Colinas, TX  |  July 22-23, 2020] To start their final rounds, eventual 2020 Elite Cup Invitational champions Prayaag Oruganti and Ellie Roth may have felt like an afterthought amidst the storylines from Round 1. Both fired fairly bland 5-over 76s on Day 1 at TPC Four Seasons Las Colinas, which put Roth 4 shots back and in a tie for sixth, and Oruganti 6 shots back and in a tie for 12th. This changed quickly, however, once the second round began.
Roth, and Kansas University signee, made a quick move early, eagling the par-5 3rd hole, inching her closer to Avery Zweig, the first-round leader. But Zweig was steady early, making an eagle of her own on No. 3 and a string of pars on the front on the front 9. It was on the back side where Roth turned it on while others stumbled. In the difficult stretch in the middle of the back 9, Roth made 3 birdies in four holes, moving herself to 5-under-par for the day. As she walked off the 17th green with a par, she found herself comfortably at the top of the standings, as the Round 1 leaders struggled on the back 9. She only needed a bogey on the last to secure the victory, and played a safe shot onto the green and calmly tapped in for 5 to secure the championship in her final event before heading off to college.
In the Boys Division, Oruganti starting off with a blast, carding birdies on Nos. 3, 5, 6, and 8 to make the turn at 4-under-par for the day, but he was still a few shots back of the lead. He birdied No. 10, but then dropped shots at 11 and 14. At that point, his charged appeared to be over, and while he had climbed the leaderboard, it wasn't going to be enough (at the time) to reach the top. Then the last 3 holes happened. Oruganti birdied 16 and 17, and then hooked his tee shot well right into the trees on 18, but hit a miraculous recovery shot to just a few feet and tapped in for birdie. In the end, Oruganti's 6-under round was good enough for a 3-shot victory.