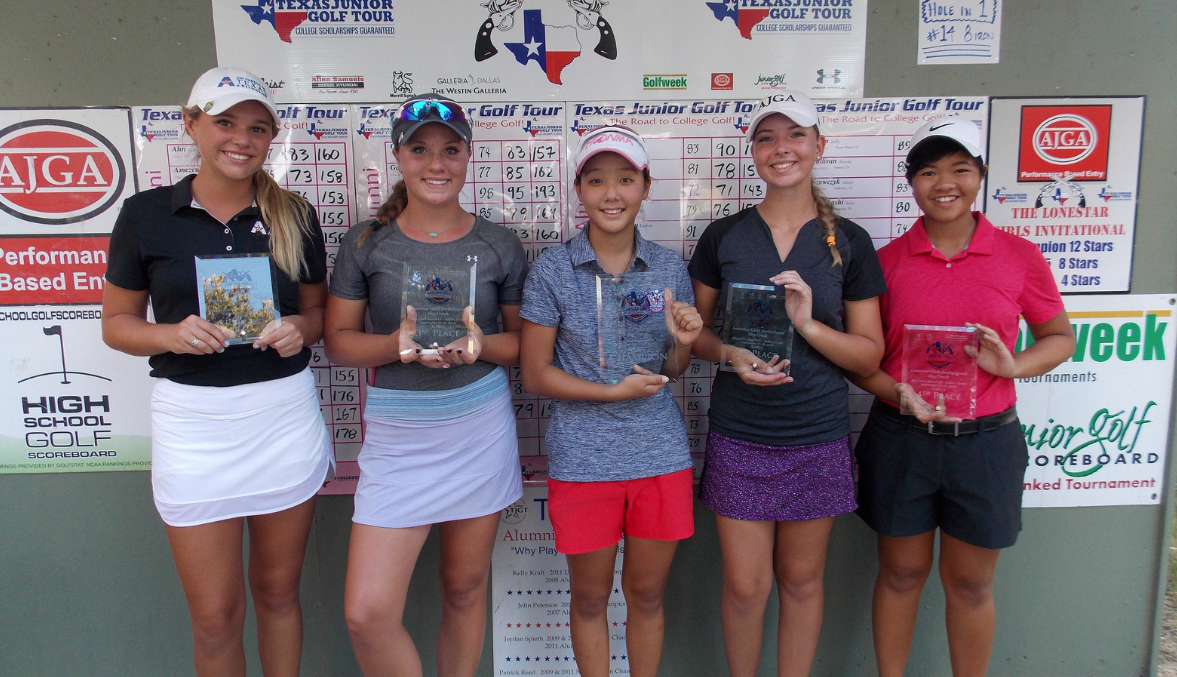 Keller, Texas — September 17 & 18, 2016 – The annual 2016 Lonestar Girls Invitational commenced this past weekend at Sky Creek Ranch Golf Club in Keller, Texas. This tournament is a special event held each Fall showcasing the amazing talent of the TJGT's young ladies. The weather cooperated nicely with the worst of the conditions being Texas humidity. Players from Texas, Louisiana and Mexico competed for the coveted Lonestar Girls champion title. This event is known to be a big draw for collegiate recruiting and coaches from around the state of Texas made appearances. Collegiate coaches representing the following institutions were present: Dallas Baptist Head Coach Kenny Trapp, UT Arlington Men's Coach Stuart Deane, UT Arlington Women's Coach Catherine Matranga and Texas Southern University Hank Stewart.
Day One Recap
Round one of the Invitational kicked off at 1pm local time in Keller, Texas, as 61 of the best amateur female golfers in the region competed for the championship and the victor's 12 AJGA Stars. The tournament also featured three exemptions into the Dixie Amatuer. Despite the sweltering Texas sun and monstrous humidity, many players took advantage of the calm conditions, firing low scores.
Carrollton's Bohyun Park set the pace in round one, firing a 2-under par 70, making three early birdies on the front nine, and carding a lone bogey on the par-5 18th hole. Right on her heels was Austin's Makenzie Niblett, who fired a relatively clean round of 1-under, with two birdies and a single bogey. Taylor Mieras and Ana Collado-Diaz shot even par, and Ava Schwienteck and Sophia DiGesualdo each posted rounds of 1-over 73. All in all, more than half the field shot 80 or better on Day 1, and 10 players were within five shots of the lead.


Day Two Recap
With the leaders teeing off on the first hole at around 1:20pm, the race was tight for most of the afternoon. Round one leader Park started slowly, making three bogeys in her first seven holes, falling back into the pack. She finished solidly, however, playing her last 11 holes in 2-under par, good enough for a final round 73, and a two-day total of 1-under par. After the first nine holes, Allen's Taylor Meiras held a slim lead over Park – the two were paired together in the final group – but Park battled back on the final nine holes, and the two tied at the top at 1-under par. The third member of the final group, Austin's Makenzie Niblett, shot a solid second-round 75 to take solo third place.
After post round scoring was complete, there were playoffs for first place and fourth place in the overall Girls 11-18 Division. These playoffs were especially important as AJGA PBE stars were on the line. All four competitors faced off on the first hole at Sky Creek, a par 4 with a creek running across the middle of the fairway and an elevated green, protected by a deep bunker on the left. In the Championship playoff, Bohyun Park tapped in a short par putt to defeat Taylor Mieras, who found the creek on her second shot. In the fourth place playoff, Kate Tran made a four-foot putt for par to claim victory over Ava Schwienteck.
Special Congratulations: McKinney's Brooke Morales made a HOLE-IN-ONE on the par-3 14th hole in the second round. Congratulations Brooke!

AJGA PBE ENTRY Winners (Girls 11-18 Division)
Bohyun Park* (2021) – Carollton, Texas – Champion – 12 Stars
Taylor Mieras (2019) – Allen, Texas – Top Five – 8 Stars
Makenzie Niblett (2021) – Austin, Texas – Top Five – 8 Stars
Kate Tran* (2017) – Arlington, Texas – Top Five – 8 Stars
Ava Schwienteck (2017) – Magnolia, Texas, – Top Five – 8 Stars
Sophia DiGesualdo (2017) – Austin, Texas – Top Ten – 4 Stars
Ana Collado-Diaz (2017) – Vericruz, Mexico – Top Ten – 4 Stars
Mackenzie Moore (2021) – Trophy Club, Texas – Top Ten – 4 Stars
Ellie Roth (2020) – Plano, Texas – Top Ten – 4 Stars
Hannah Holzmann (2018) – San Antonio, Texas – Top Ten – 4 Stars
*Won in single hole playoff

Like 'TJGT' on Facebook. Follow @txjrgolf on Instagram and @tjgt on Twitter! 
Check out our Flickr album for photos of the event!