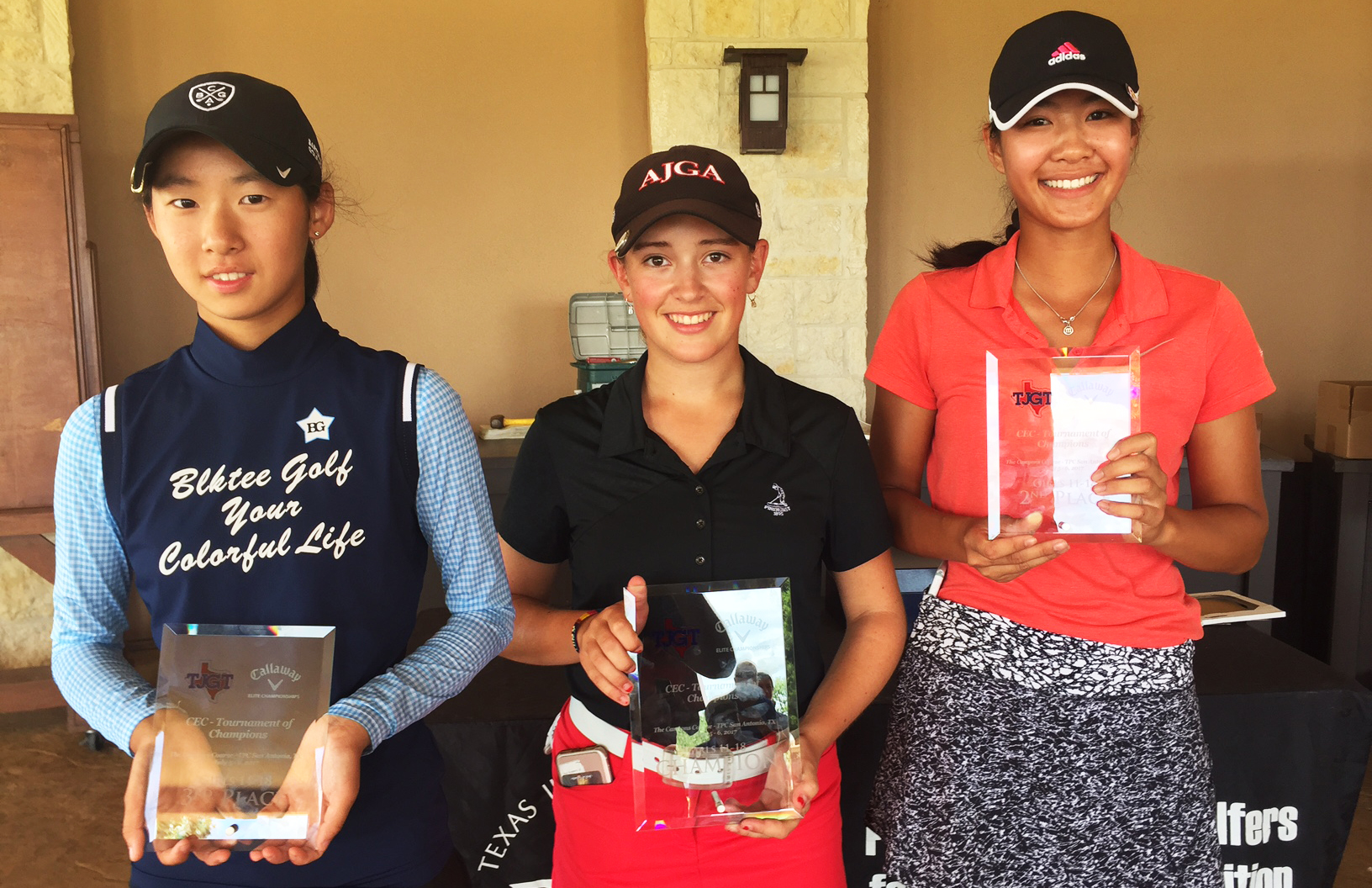 JULY 5-6, SAN ANTONIO – In the heat of July in the heart of the Hill Country, two players stood above the rest after 36 grueling holes on the Canyons Course at TPC San Antonio for the annual Tournament of Champions, sponsored by Callaway Golf and part of the Callaway Elite Championships series.
At the end of the day, Houston's Jack Diamond and San Pedro, Mexico's Cory Lopez emerged victorious, capturing the prestigious title of 2017 champions.
GIRLS DIVISION
In the Girls Division, Lopez, a high school graduate of 2020, set the pace right away for the event, firing a Round 1 73 (1-over par) is steamy, difficult conditions, to establish a 3-shot lead over a group of competitors. Despite carding a triple-bogey 7 on the par-4 11th hole, Lopez also rolled in five birdies, including 3 in a 6-hole stretch in the middle of her round.
Standing 3 shots back of Lopez after Day 1 were a pair of juniors-to-be in Katy's Kelsey Wylie and San Antonio's Michelle Becker, both of whom shot opening-round 76s. Just one stroke back of them was a pair of Hill Country standouts in Romina Gonzalez and Yingzhi Zhu. In all, 15 players shot 80 or better on the difficult golf course in grueling conditions, and five players were within a handful of the lead heading into Round 2.
Unfortunately for the rest of the field, Lopez did herself one better on Day 1, shooting an even par round of 72 to finish at one over total for the tournament and claim a six-shot victory. Abilene's Maddi Olson matched Lopez for low round of the tournament on the girl's side, also shooting 72, jumping from well outside the Top 10 on Day 1 to a T5 finish. In a heated battle for second play, Zhu and Sugar Land's Michelle Huynh both played well, with Zhu shooting 74 and Huynh shooting 73, locking them dead even in a tie for the runner up position. Rounding out the Top 5 were Becker (4th) and Olson, Wylie and Gonzalez (T5).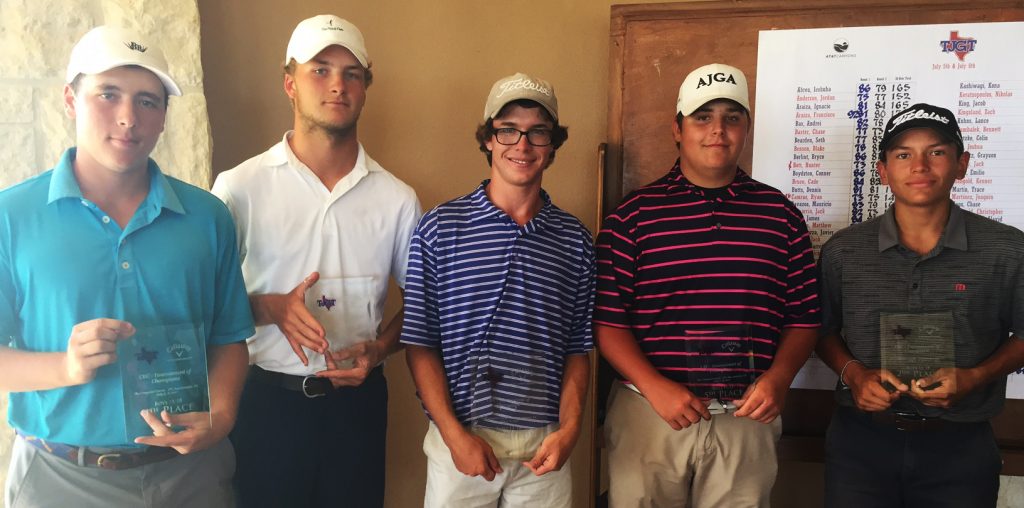 BOYS DIVISION
In the Boys Division, San Marcos junior-to-be Trace Martin opened up the tournament with a 3-under-par 69, the lowest round of the tournament, and one of only two rounds under par for the entire field during the week. Right behind him was Jonathan Miller from Beaumont, who opened up with an even-par round, and one more shot back were four players – Jack Diamond, Grayson Litowitz of Austin, Ryan Camras of Hot Springs, Ark., and Montgomery's Hunter Bott. 14 players shot 75 or better on Day 1, despite the oppressive heat, and almost half the field shot 80 or better.
In Round 2, similar to the girls division, scores were a bit better on the boy's side. Diamond started 4 shots back of the lead, but only two players were ahead of him, and when the leaders began to falter in the Texas heat, Diamond took charge of the tournament. His final round 72 was extremely solid, and when he putted out on his final hole, he had a one-shot victory. Right behind him, with the round of the day (a one-under 71) was Buda's Jacob Sosa, who took solo second place. Another shot back, at 146 for the two days, was Dallas' Randall Fojtasek, Jr. Rounding out the Top 5 in the Boys Division were Bott, Camras, Litowitz, Martin and San Antonio's Parker Rae, who all finished in a tie for 5th.