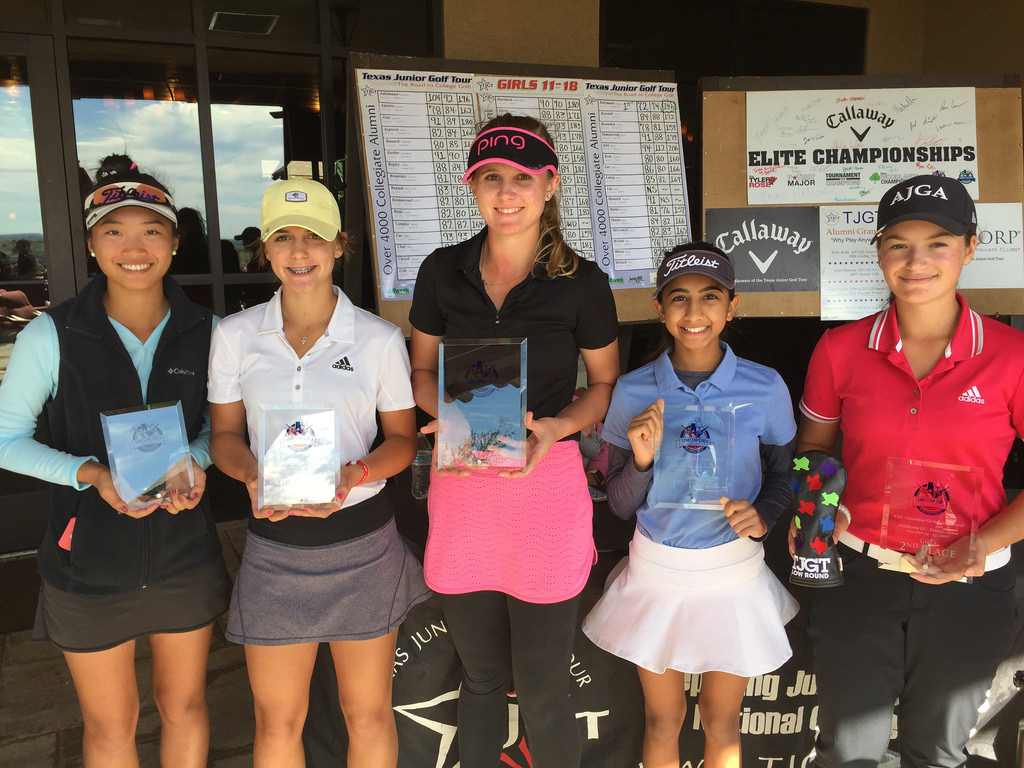 OCT 14-15 | DENTON, TX – At Wildhorse Golf Club in Denton, 83 of the best female junior golfers in the southeast hit the links at the 2018 LoneStar Girls Invitational, presented by Callaway Golf. Extreme winds ruled the day during both rounds, as a 20mph south wind swept across the course on Day 1, and then switched directions overnight, blowing hard and fierce out of the north on Day 2, with gusts that exceeded 30mph at times. It was a battle both days, as players attempted to manage the windy conditions (and hold onto their hats, literally!) and fight to make pars in one of the toughest tournaments of the year. With an impressive two-day total of 146 (2-over par), San Antonio senior Hannah Holzmann captured the title by two strokes.
With prevailing winds out of the south on Day 1, temperatures climbed into the high 80s, and most of the field adjusted nicely. Holzmann charged out in front right away, firing an opening-round 72, giving her a two-shot cushion. Starting on the 10th hole, she stumbled slightly out of the block, bogeying 2 of her first 3 holes, but then heated up, finishing her front 9 with thre birdies in a five-hole stretch. She tallied five pars in a row to end the day, finishing at even par. Two shots back stood Richardson freshman Meagan Winans, whose opening round 74 included two birdies and four bogeys. Four players stood 3 shots off Holzmann's lead after Day 1, including Symran Shah, and young up-and-coming player from Carrollton, Plano senior Grace Pettijohn, Grapevine sophomore Gabriella Tomanka and Odessa's Rylie Rodriguez.
Scores were fairly bunched after day 1, as 21 players shot 79 or better, and almost half of the field was within 10 shots of the lead. With the forecast for Day 2 looking nasty – high north winds and temperatures in the 50s and 60s, the tournament was still completely up for grabs.
In some of the most difficult conditions of the year, Holzmann was a steady force during Day 2, keeping things together just enough to secure the victory. Her back 9 was a bit crazy – 3 birdies and 4 bogeys, but her tap-in bogey on the 18th hole sealed the tournament. Flying up the leader board in Round 2 was Plano freshman Ellie Roth, who shot the low round of the tournament, a 1-under-par 71, extremely impressive in the difficult conditions. Roth opened up with two bogeys in her first six holes, but played the last 12 in 3-under par. Her two-day total of 148 was good enough for a solo second place finish.
Winans and Shah tied for 3rd at six-over par, and sliding into the Top 5 by one stroke was Midlothian senior Jasmine Zhang. Her second round 77 gave her a two-day total of 153, good enough to capture the final spot in the Top 5 for the championship.