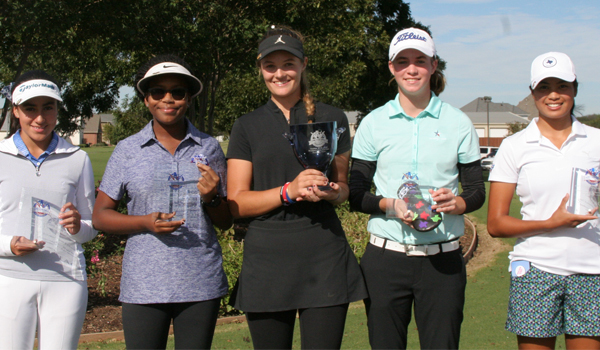 [BURLESON, TX | OCT 20-21] Making par seems like it should be a simple task, but when you are coming down the stretch of an elite tournament, battling two other top players in the region, making a couple pars can suddenly become the hardest thing in the world. But that is what California freshman Paris Hilinski needed to do on the final three holes – the most daunting of the tournament – to secure a victory at the 5th Annual LoneStar Girls Invitational, even if she didn't know it.
Standing on the tee of the treacherous par-4 16th at Southern Oaks GC (the hardest hole for the field on the back 9), Hilinski stood one shot behind Houston's Allyn Stephens after the two both birdied the par-5 15th. Hilinski had begun the final round with a one-shot lead over Stephens, but struggles on the front 9 had forced her into the role of the chaser in her attempt to capture her first victory on the TJGT. But when Stephens – a multi-time winner on the TJGT – faltered down the stretch, Hilinski was there to capitalize, making three steady pars on the final three holes to capture a one-shot victory over Stephens.
Following close behind Hilinski and Stephens were Trophy Club sophomore Mackenzie Moore, who shot the round of the day with a 1-under 71, and Mexico's Alexa Saldana, who both tied for 3rd at 4-over-par. Rounding out the Top 5 was Grand Prairie senior Aysis Azarcon, notching another high finish after capturing the TJGT Elites Cup at the end of summer.
For Hilinski, the victory did not come without serious hardships. After opening the tournament with a 2-under 70 – which featured 4 birdies and only 2 bogeys – and a one-shot lead, she struggled mightily out of the gate in Round 2, making five bogeys in her first eight holes on the front 9. She righted the ship with a birdie on the par-5 9th hole, however, and then rattled off seven pars on the back 9 en route to the victory.
Stephens was at Hilinksi's heels all day. After starting the day only one stroke back, Stephens took the lead with a par on the difficult 5th hole, and went back and forth with Hilinski through the middle of the round until an untimely bogey on the 16th, followed by another on the 18th, ended her bid for the championship.