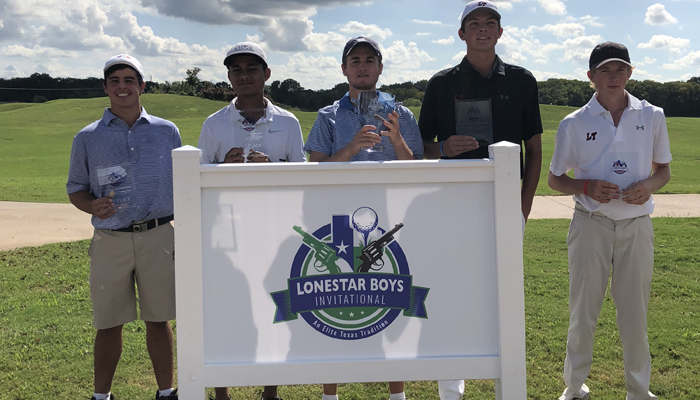 [SEPT 29-30 | BURLESON, TX] Standing on the par-5 15th tee during the final round of the 5th Annual LoneStar Boys Invitational, Dallas' Ryan Goldfarb was 1-under for the day and 7-under for the tournament, and in a tight battle with history, chasing the lowest 2-day total in the tournament's history, set last year by Louisiana native Grayson Gilbert. Goldfarb needed at least one more birdie in his last four holes to tie the record, but was facing the gauntlet of 16-17-18, three of the hardest holes on the golf course all weekend.
Goldfarb got his birdie on the par-5 15th, moving to 7-under, and from there went on a tear, easily birding the difficult 16th and the monster, 240-yard par-3 17th, and almost capping it off with a birdie on 18. In all, he made 4 birdies on the back 9, including three in a row from 15-17, carded a final round 68 and set a new tournament record, finishing at 10-under-par. Oh, and he took home the championship hardware as well.
It was a masterful back 9 performance by Goldfarb, who will play golf in the Ivy League next fall for Harvard University. But it wasn't a victory that came without challenges. Earlier on Sunday, Lake Travis junior Jackson Scheen made six birdies en route to a 4-under 68, posting 2-under for the tournament and putting pressure on the leaders. On the front 9, Longview junior Cade Bruce climbed within one of the lead with an early birdie, playing in the final group with Goldfarb, and stood just 3 back going into the treacherous final four holes.
But in the end, neither Bruce nor Scheen – nor Lake Travis sophomore Trevor Walsh, who also played in the final group – could apply enough pressure late in the round to truly challenge Goldfarb, and he cruised to an eight-shot victory.
The real battle, however, was for second place, as Scheen, Walsh, Louisiana's Payne Johnson and Flower Mound's Rohit Madireddi all traded punches down the stretch, trying to capture in the runner-up spot. In the end, all four young men ended up tied at 2-under for the tournament. A USGA scorecard playoff determined that Scheen took second, Madireddi third, Johnson fourth and Walsh fifth.
In all, seven players finished under par for the tournament, the most in LoneStar Boys history, and 23 players finished at 5-over or better.
See photos from the event on the TJGT Flickr page by clicking here.