As many of you know we are just 4 short weeks away from the G2 Academy Lonestar Girl Invitational hosted at Southern Oaks Country Club in Burleson, Texas. This prestigious event is in it's 6th year and is already bringing in some of the top ranked ladies in Texas. Each week prior to the event, we will be showcasing our 5 previous champions. The Texas Junior Golf Tour and G2 Academy is extremely excited to get this event underway and host some great talent! 
Let's get to know our 2014 and first annual Lonestar Girls Champion!
Hometown // Allen, Texas
High School // Allen High School, Class of 2015
College // University of Texas-San Antonio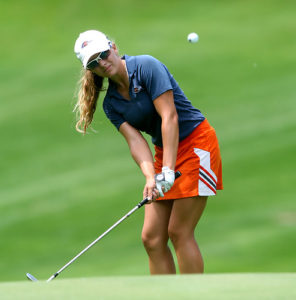 Turned Pro // 2019
Favorite Golf Course // Kingsbarns (Scotland)
Favorite Club in her bag // Driver
Favorite Golfer // Tiger Woods
Hobbies outside of golf // Hanging out with friends
Favorite Music // Pop
Favorite Food // Tacos
If you had one super power what would it be? // Ability to fly
Who is your biggest influence in golf? // My Coaches
What advice would you share with junior golfers? 
"My advice for junior golfers is to work hard and have fun while doing it. My best advice for picking a college is to make sure you like the team, school, and go somewhere you know you can play and grow your own game."
Why do you think other girls should play golf? 
"I think other girls should play golf because there is so much opportunity to grow as a person and so many college scholarships available!" 
What has been your favorite golf memory? 
"My favorite golf memory is winning my Conference Championship as an individual and as a team. I worked so hard for that goal, and to achieve it was a great moment!" 
"I had so much fun playing TJGT tournaments a junior, they helped me grow my game and become the golfer I am today!"
For more information on The G2 Academy please visit: https://www.g2golfacademy.com/
For more information on this year's G2 Academy Lonestar Girls Invitational please visit: https://tournaments.tjgt.com/Tournament/TournamentDetails?TID=13492&TnmtDate=2019&TnmtName=TheG2AcademyLonestarGirlsInvitational#info