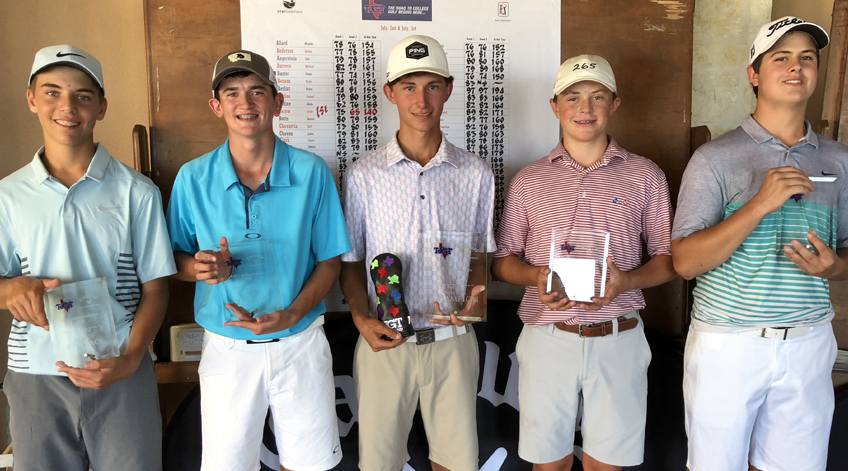 View tournament statistics here
[JULY 2-3 | SAN ANTONIO, TX] Lake Jackson sophomore Jacob Borow stood on the first tee of the second round of the Independence Elite sponsored by Callaway Golf only three shots back of the lead, but behind a bevy of players, with a host of other challengers breathing down his neck. He calmly stepped up, piped a drive down the first fairway, and rolled in a putt for birdie.
Eight holes later, Borow made the turn in 3-under-par on the difficult Canyons Course at TPC San Antonio, and had erased the entire gap between himself and the leaders. When he rolled in a birdie on the difficult 11th hole, he had the lead all by himself, but refused to let up off the gas, ripping off three more birdies on the home stretch to card a seven-under-par 65 – one of the lowest scores in tournament history – and capture his first major victory on the TJGT by seven shots.
In the women's division, multiple-time champion Avery Zweig blew the doors off the field on the first day with a 4-under-par 68, grabbing a five-shot lead right out of the gate with two quick birdies on her first two holes. Zweig cruised through her opening round with little stress, and her only hiccup came on the par-4 third.
In the second round, Zweig was in total control of the tournament. While she stumbled slightly on the front nine, she carded two birdies on the back nine to shoot even par for the day and grab the championship by nine shots, her second major victory on the TJGT of the summer.
The race for runner up in the girls division was filled with excitement, as reigning LoneStar Girls champion Hannah Holzmann battled with University of Kentucky commit Kelsey Wylie. Wylie ultimately bested Holzmann in the final round by a single shot, and captured the runner-up trophy in a scorecard playoff between the two when they finished tied at 149 for two days. Rounding out the Top 5 in the girls division were San Antonio's Kiersten Bryant and Austin's Mimi Burton.
In the boys division, the rest of the top 5 behind Borow came down to a photo finish, as the next five players were only separated by two strokes. Tuscon's Jarrod Johnson came out of the pack on top, carding a two-over 74 on day 2 to grab solo second, followed closely by Luke Haskew of Baton Rouge, who took solo third. Three players tied for fourth – Spring's Matthew Spaulding, Belton's Cody Johnson and Southlake's Jace Edgmon.