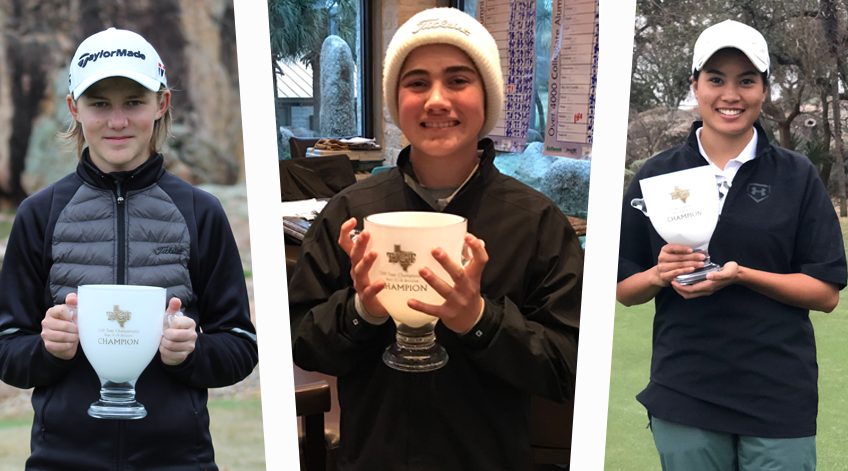 [FEB 9-10 | HORSESHOE BAY] In what was a continuation of a dreary, cold winter, the 2019 TJGT Tour Championship kicked off under cloudy skies, calm winds and wet, cold temperatures. But that didn't stop 200 of the best junior players from across the region from competing hard over 36 holes, with each division title coming down to the wire on the back 9 on Sunday. In the end, three players – Keller's Kaelen Dulany, Grand Prairie's Aysis Azarcon and Houston's Kristoffer Kuvaas – came away victorious, claiming the titles as 2019 Tour Championship victors.
Boys 15-18 Division | Slick Rock GC
On the Slick Rock golf course, 108 boys teed it up over the two days to compete for the title. Under the cold conditions of Round 1, while no player was able to fully break away from the pack, a group of more than 20 players were bunched up within five shots of each other at the end of the day. Leading pack was Lewisville's Junwoo Park, who continued his solid play this winter with an opening round 2-under-par 70 that saw him make four birdies on the back 9, including a stretch of three in a row on holes 10-12. Finishing one shot back of Park after the first round was Cypress junior Lucas Borrero, who shot one-under for the day, and then a group of four players, including Dulany and Mexico's Ari Saldana, grouped together at even par, two shots off the lead.
Round 2 may have proven more difficult than Round 1, because while temperatures rose into the high 40s and low 50s by the afternoon, a fine, chilly mist filled the air for most of the day. Playing in the second-to-last group, Plano sophomore Chris Park started hot, birdieing two of his first four holes to move to 1-under-par for the tournament and grab a share of the lead with Park and Borrero, who both made some early bogeys. With only 9 holes left, the tournament leaderboard had shifted dramatically, as 6 players – Park, Borrero, Saldana, Dulany, Zach Heffernan and Jacob Sosa – were all within a shot of each other, hovering around 1-under or even par, vying for the championship.
In the end, it came down to which player would keep it together and take advantage of the deceptively difficult back 9. Some of the leaders – including Park and Borrero – stumbled down the stretch, falling back into the pack, leaving 3-4 players to battle it out on the home stretch. Dulany and Park struck first and the hardest, each making two birdies on the first three holes of the back 9 to move to 1-under-par, but it was Dulany's birdie on the par-4 15th hole that ultimately proved to be the difference maker, propelling him back to 1-under for the tournament and into the lead. Three straight pars to finish the round and a final day 71 was all he needed to secure his first major TJGT victory of his young career, one shot ahead of Saldana and Park, who tied for second a even par.
Rounding out the Top 5 was Heffernan, who finished with a final round even-par 72, and Katy's Byungho Lee, who shot 1-under on Sunday, who tied for fourth a one-over for the tournament.
Girls 11-18 Division | Ram Rock
About three miles across the street at the newly-renovated Ram Rock course, the Girls field was locked in an equally tight battle over the two days. On a tough golf course, Austin's Nicole Vivier set a dominating pace early on in Round 1, carding a 2-under-par 69 to take a one-shot lead heading into Sunday. Despite making bogeys on the difficult 16th and 18th holes, Vivier carded four birdies on the first day, including two 2's on the par 3s, to grab the lead. One shot behind her was The Woodlands' Tillie Claggett, whose opening-round 70 was a rollercoaster ride that saw bogeys on No. 1 and No. 18, as well as a double-bogey on the par-5 9th hole, but also five birdies, including three in a six-hole stretch in the middle of the front 9.
Vivier and Claggett did well to separate themselves from the pack, as the nearest competitors stood 3-4 shots back in a group that included Allen senior Taylor Mieras, Austin's Mimi Burton and Grand Prairie senior Aysis Azarcon.
Round 2 started with heartbreak, as a light fever that had plagued Vivier on day 1 (making her round even more impressive) morphed into a full-on illness when she awoke Sunday morning, forcing her to withdraw from the tournament. With the window of opportunity unfortunately open, a couple of heady seniors seized control of the tournament in the difficult Round 2 conditions. Playing together in the penultimate group, Azarcon and Mieras battled it out with fellow senior Kelsey Wylie throughout the round.
Mieras began the day with a one-shot lead over Azarcon, and quickly extended that lead with a birdie at No. 1. She stumbled in the middle of the front 9, however, making a few costly bogeys while Azarcon made steady pars, and standing on the 10th tee, Azarcon had a 1-shot lead over Mieras and a 3-shot lead over Wylie, and was in control of the tournament. The back 9 proved to be difficult for all three players, and when Mieras made a 2 on the par-3 17th, she climbed to within one-shot of Azarcon as they played the difficult uphill 18th hole. Azarcon took care of business, however, making par at the last and forcing Mieras to make birdie. When she was unable to do so, Azarcon tapped in for a 1-shot victory, with Mieras finishing solo second.
Rounding out the Top 5 were Wylie and Mexico's Alexa Saldana, who finished T3, and Claggett, who had a tough Round 2, but was still able to capture solo 5th.
Boys 11-14 Division | Ram Rock
Also teeing it up at Ram Rock were the boys in the 11-14 Division. Unlike the other two divisions, where leads changed hands constantly during each round, the Boys 11-14 event saw Houston's Kristoffer Kuvaas go wire-to-wire to capture the title. Kuvaas seperated himself early from the field in Round 1, firing a 2-over-par 73 on Saturday to take a five-shot-lead over 11-14 Player of the Year Trevor Algya. Kuvaas played a relatively clean round, making two bogeys and a double on the par-4 2nd hole, and two birdies to bounce back.
The wet conditions and long yardage made Ram Rock a monster in the final round for the 11-14 division, but Kuvaas was able to hold on, playing steady golf to start, avoiding costly blowups and keeping his mistakes down to just a few bogeys. When he casually tapped in for par on the 18th green, he had claimed a hard-earned 2-shot win over a charging Alex Papayoanou, also from the Houston area, who claimed solo second. Finishing two shots further back in solo third was Houston's Brooks Morrell.