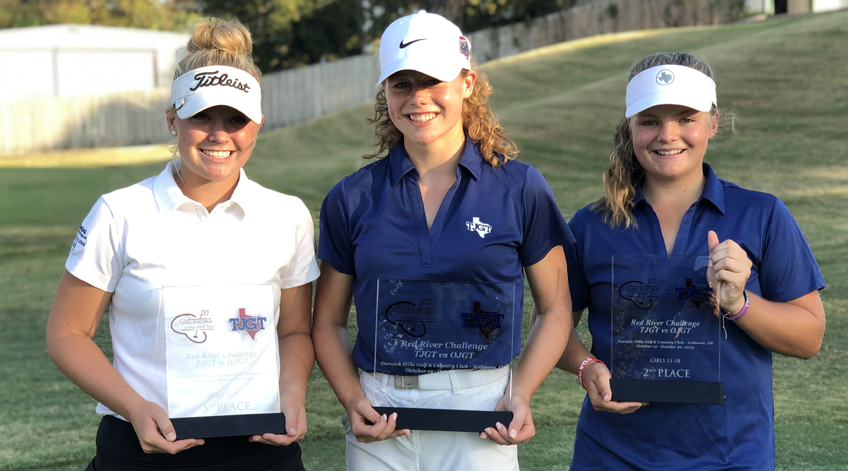 View Leaderboard Here | View Event Photos Here
In the waining light of Sunday afternoon, it was a 3-footer that stood between The Woodlands' Tillie Claggett and the Red River crown, and when she calmly rolled it in (as she had been doing all day), a smile of relief, exhaustion and elation lit her face. It was a long day, as Claggett and the entire field battled high winds on the firm and fast Dornick Hills GC in south Oklahoma, and Claggett needed 3 extra holes to claim the victory over four others in the elite girls field.
After shooting one of the best rounds Sunday in the extreme conditions, Claggett found herself in a 4-way tie with Texas teammate Avery Zweig and two Oklahoma players – Rachel Nelke and Emily Miller. On the second playoff hole, Claggett looked to be out of the playoff when her second shot cracked off a tree limb about 100 yards from the hole, but her third shot landed on the back of the green on a slope, spun back and tracked all the way to hole, barely missing for birdie and leaving her a tap-in par, much to the excitement of the cheering crowd that had gathered behind the green to watch the excitement.
The victory for Claggett, who started the day six shots off the lead but surged to the top of the leaderboard with 3 birdies in a four-hole stretch on the back nine, breaks a 3-year streak of Oklahoma players capturing the girl's individual title.
Finishing runner-up was recent G2 LoneStar Girls Invitational champion Avery Zweig, and Oklahoma's Raychel Nelke finished in third.
On the boy's side, Oklahoma's Andrew Goodman, an Oklahoma commit, continued his dominance at the Red River Challenge, posting the only under-par round of the tournament on day 1 and cruising to victory with a 3-over-par 73 on day 2 to successfully defend his title from the 2018 event. Goodman, one of the Top 3 players in the world according to Junior Golf Scoreboard, was strong all weekend, with his only major blip coming with a double-bogey on the par-3 2nd hole on Sunday, but he quickly righted the ship with two birdies on hole Nos. 6 and 8.
The victory was Goodman's second major title and his eight Top 10 finish of the year. Finishing two shots behind Goodman in second was William Falleur of Sallisaw. Edmond's Jaxon Dowell finished solor 3rd, and Nic Hance of Irving and Tres Hill of Elk City finish tied for 4th.
In the team event, the Oklahoma side rode a dominant day 1 performance – in which they tallied 10 of the 14 total available points – to victory. The Texas team rallied on day 2, but the hole they were in was just too much, allowing the Oklahoma side to capture their third straight victory.