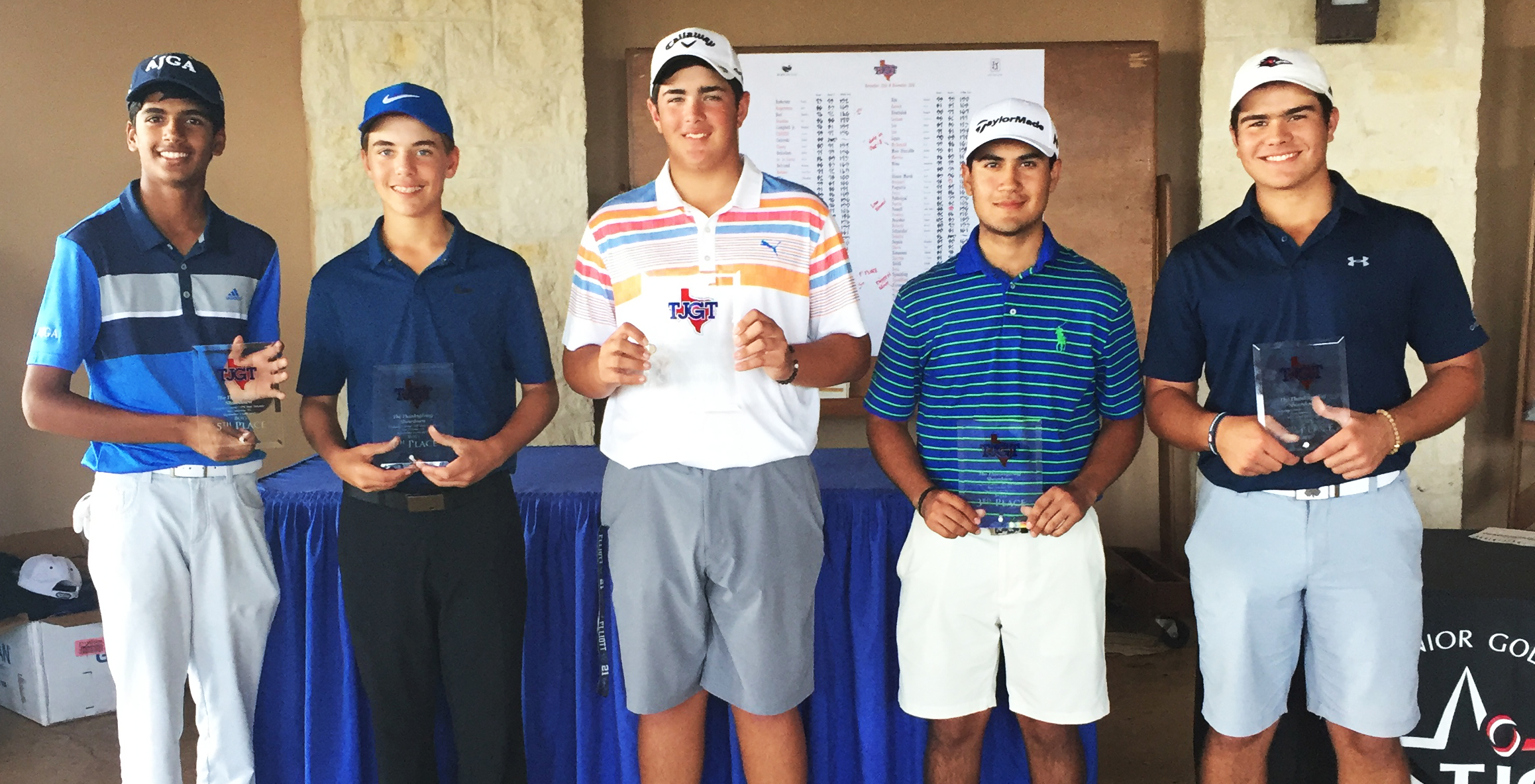 NOV 25-26 | SAN ANTONIO  – For a tournament that is now almost a decade old, Mother Nature has thrown every curve ball possible at the field during the tournament's history. We've had high winds, heavy rains, some sleet, freezing temperatures, clouds that kill daylight and everything in between. But it's tough to recall, in the history of the event, weather conditions that matched the 2017 tournament – high 70s, crystal clear skies and almost zero wind. It felt like your typical Texas weekend in May.
So, for the field of 120+ junior golfers from all across the south, weather served as little excuse, and the best players in the field quickly took advantage, rising to the top of the leader board and joining great players of the past as tournament champions.
BOYS DIVISION
In the boy's division, two players jumped out to an early lead in Round 1, firing matching rounds of even par to open the tournament on the difficult Canyons Course. Trophy Club junior David Harrison, who won the State Junior Match Play at Traditions this summer, had a bit of a give-and-take round on Day 1, carding four birdies (including 2 on par 3s), but giving each one right back with a bogey. The other leader after Day 1, Spring's Matthew Spaulding, had a bit of an up-and-down round as well, carding four birdies of his own, but matching with four bogeys. Spaudling got to 2 under after 16, but stumbled a bit on the tough 8th and 9th holes, resulting in an even-par round.
Three players stood one shot off the lead at 1 over – San Antonio senior Isiah Henderson, Montgomery junior Terrin Anderson, and Spring's Andrew Spaulding. In all, 12 players stood within four shots of the lead after the first round, and almost half the field shot 80 or better on the difficult golf course.
Day 2 brought weather just as beautiful as Day 1, and scoring conditions were excellent. Harrison made his run right out of the gate, slamming home a birdie on the par-4 first hole, and carding two more birdies on the front side to make the turn at 2-under-par for the tournament. He played steady on the back 9, finishing the day at 1-under par and 1-under for the tournament, good enough for a 3-shot victory. Finishing second was Montgomery junior Hunter Bott, who started the day two shots back of Harrison and Spaulding, but made a nice jump by firing an even-par round of 72. Rounding out the top 5 were Henderson (3rd), Matthew Spaulding (4th), and Austin freshman Prayaag Oruganti (T5th), who climbed 15 spots on Day 2 when he shot a 1-under-par 71. Oruganti won a scorecard playoff against Austin's Sean-Karl Dobson, who also finished T5.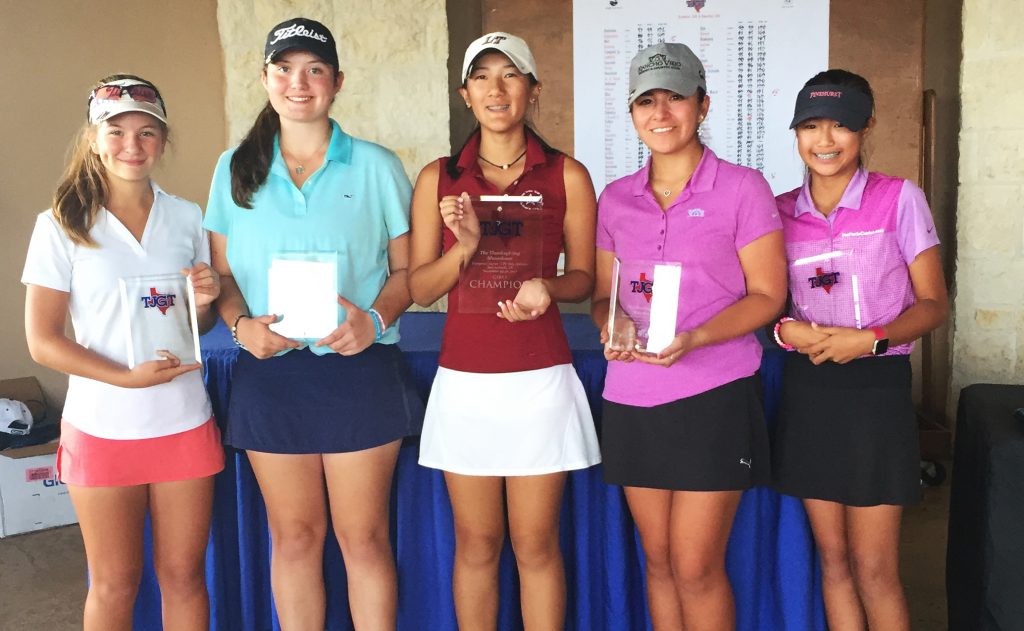 GIRLS DIVISION
In the girls division, much like the boys, two players stood tied at the top after Round 1, firing a pair of 2-over-par 74s to take a one-shot lead. Austin junior Hanna Liu, despite a double-bogey on the par-5 2nd hole, carded three birdies on the back 9 en route to her 74. The other player tied at the top, Kingwood's Libby Singleton, struggled mightily on the back 9, carding five bogeys, but shot a blistering 33 on the front (her final 9 holes of the day), including three straight birdies on holes 2-4.
Two players were positioned one shot back of Liu and Singleton after Round 1 – Midland's Rebecca Reed and Austin's Ally Black – and three more stood three shots off the lead after the first day (Avery Blake, Estelle Beck and Jensen Jalufka). In all, 12 players shot 80 or better on the first day, and eight of them were within four shots of the lead going into the final round.
On Day 2, Liu extended her lead with another solid round, shooting a second 2-over 74, putting her three shots clear of the second place and earning the championship trophy. Liu bogeyed her first two holes of the day, but came back strong with three birdies in a 7-hole stretch mid round, and finished with three straight pars on the difficult 10th, 11th and 12th holes. Jumping up into the top 5 with a 1-over round of 73 on the last day was Plano's Summer Lee, whose two-day total of 151 was good enough for second place. Brownsville senior Julie Lucio and Singleton tied for 3rd place at 153, and Beck, Blake and Fair Oaks Ranch's Jacklyn Gonzalez finished T5, with Gonzalez winning a scorecard playoff for the final trophy.
The Low Final Round awards went to Austin junior John Luke Powell, who shot a tournament-best 70 on Day 2, and Julie Lucio, whose even-par 72 on Day 2 was the lowest round on the girls' side. The Biggest Move award on the boys side went to Emiliano Tercero, who improved upon his first round score by 20 shots, and the Biggest Move award on the girls' side went to Maddi Olson, who improved by 14 shots on Day 2.