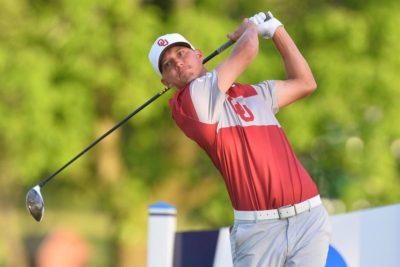 TJGT Alumni Spotlight
Welcome back to the TJGT Alumni Spotlight! In this week's spotlight is University of Oklahoma Alumni and current professional golfer, Max McGreevy!
Max played on the Texas Junior Golf Tour from 2011-2013 prior to his freshman year at Oklahoma. He carded 2 first place finishes at none other than the Sooner Junior Major Championship, which would soon be his home course. He also was crowned champion at the Stonebriar Fazio Challenge and was a part of 2 Red River Challenge teams. Max was also a two-time Oklahoma Class 6A State Golf Champion in 2012 and 2013.
As a Sooner, Max's freshman year got off to a hot start as he competed in all 13 events and earned Big 12 Men's Golfer of the Month honors. Concluded his sophomore season ranked 71st by Golfweek. As a junior, Max was selected to the 10-member 2016 All-Big 12 team, named to the 2016 All-Central Region team by the GCAA, and placed on the 2016 Academic All-Big 12 team. Max's senior year was one for the books, as he competed in all 14 events serving as team captain and helped the Sooners secure the 2017 National Championship Title! We wish Max the best of luck in his professional career!
McGreevy's Personal Records at Oklahoma
Lowest 18-hole score: 63, Lone Star Invitational (spring 2017)*
Lowest 54-hole score: 196, Lone Star Invitational (spring 2017)
Top-10 finishes: 17, last: fifth place at Big 12 Championship (spring 2017)
Top-20 finishes: 27, last: tied for 16th place at NCAA Championships (spring 2017)
Best finish: First place at Gopher Invitational (fall 2015), tie for first place (co-medalist honors) at Golf Club of Georgia Collegiate (fall 2016) and first place at Lone Star Invitational (spring 2017)
*indicates OU school record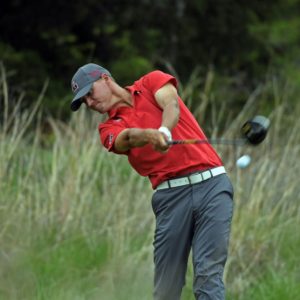 Here's a little more about Max: 
Name: Max McGreevy
Age: 23
Hometown:  Edmond, Oklahoma
College: University of Oklahoma
Favorite Golf Course: Eugene Country Club
Favorite Golfer: Rickie Fowler
Biggest Golf Accomplishment:
2017 NCAA Team National Champion
What part of your game are you always working on?
"I'm always working on my short game because it's what makes me more confident in my whole game and allows me to be more free when I'm playing."
What advice would you give to junior golfers?
"I would tell junior golfers to try and figure out what they are best at so they can play to their strengths. The best players in the world know what they are best at and don't vary from it. They have their game plan and stick to it always."
What's your favorite TJGT memory?
"My favorite TJGT memory is winning the Jimmie Austin Major Championship in Norman, Oklahoma because it was where I was committed to go to school and I got to play in front of my future coaches and teammates. It was a special weekend!"