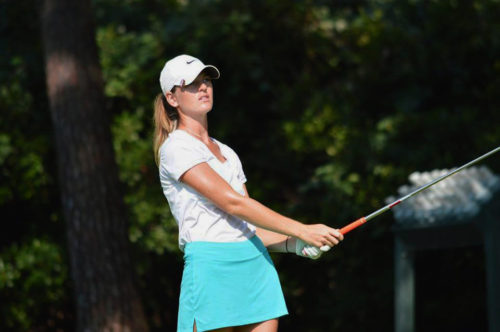 Do you ever wonder what's inside the head of a former Division 1 Golfer?
Good news for you, now you don't have to!
This weeks alumni spotlight is our very own Marketing Director, Maty Monzingo. Maty has been around the TJGT since she was a little girl, so it's safe to say she's a TJGT die hard. During her high school career she carded a 72.61 scoring average and won the 5A State Championship. Her career on the TJGT consisted of five 1st-place finishes including the 2010 Tour Championship and Four Seasons Invitational and 27 Top-5 finishes. 
Her college career started smoothly at Texas State University in 2013. Her freshman year included 5 rounds under-par. She also led her team at the NCAA Regional Tournament hosted by Florida State with 2 under-par rounds. She won her first collegiate event at the SunBelt Conference Championship as a junior. Maty was named to the 2016 All-Sunbelt Tournament Team and has Sunbelt Conference Honors. Following her senior year of college, she competed in LPGA qualifying and earned partial Symetra Tour Status. She turned professional and played in a few events until the TJGT swept her up! Here's a little more about Maty: 
Name: Maty Monzingo
Age: 23
Hometown: Trophy Club, Texas
High School: Byron Nelson High School, Class of 2013
College: Texas State University
Favorite Golf Course: The Farms Golf Club (Rancho Santa Fe, CA)
Favorite Golfer: Fred Couples
Biggest Golf Accomplishment: Winning the Sunbelt Conference Championship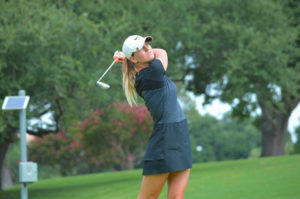 What part of your game are you always working on? Why?
"I'm always working on my 30-50 yard distances, I found that it's the area that I lose the most strokes in. I've improved my scoring average drastically after focusing on that range. And obviously putting, you can never putt too much."
What advice would you give to junior golfers? 
"Practice with a purpose. Know why you are there, what you want to do, and get to work. Most importantly, have fun. Time flies in junior golf and in college, so make the most of your experience. The memories and friendships you will make along the way will last a lifetime."
What is your favorite TJGT tournament or Memory? 
"I have a lot of memories on the TJGT, so it's hard to just pick one. I always loved the tournaments at TPC San Antonio. I remember we would all play our round then turn around and hit the pool and slides. I met some of my very best friends to this day on the TJGT, so I am very thankful for the tour!"