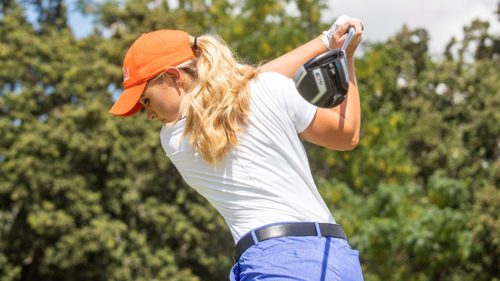 TJGT Alumni Spotlight
Welcome back to the TJGT Alumni Spotlight! In this week's spotlight is collegiate golfer at University of Texas at Arlington, Madigan Murray!
During Madigan's time on the TJGT she competed in 22 events. She landed 2 first place finishes before heading off to play college golf! As a member of the McKinney Boyd High School Golf Team she was named co-captain and MVP her junior and senior years, was a 2017 All-Region Selection and a 4-year All-District and All-State Academic Honoree. Murray was also the 2014-15 District 6-6A individual champion and regional qualifier. Madigan has paved the way to college golf for her younger sister, Molly Murray who currently plays on the TJGT. Molly plans to follow in her sisters footsteps, as she has committed to play golf at The University of Houston.
As she enters the spring season of her sophomore year she has had great success in her college career. Just as a freshman she competed in all 11 tournaments during UTA's inaugural season of Women's Golf and finished Top-20 in her first Sunbelt Conference Championship. Just recently Madigan posted a 3-under 69 for her personal college record and tie the program record. We wish her the best of luck in the remainder of her college career!
Here's a little more about Madigan!
Name: Madigan Murray
Age: 19
Hometown:  McKinney, Texas
High School: Class of 2017
College: University of Texas Arlington
Favorite Golf Course: Stonebridge (The Dye Course)
Favorite Golfer: Rory McIlroy
Biggest Golf Accomplishment:
"Shooting my lowest college tournament round of -3 (69) and shooting under par the next day as well"
What part of your game are you always working on?
"Mental game, because no matter how good your skills are, your scores won't reflect them unless you are strong mentally."
What advice would you give to junior golfers?
"Focus on golf but make sure you don't fall behind on your academics, they are just as important. Don't overwork yourself, just work more efficiently."
What's your favorite TJGT memory?
"My favorite memory is when I won my first TJGT at Bridlewood. During the first round of the tournament I shot under par after having a quad on the first hole. It showed me that a bad hole doesn't have to mean you still can't shoot a good score."