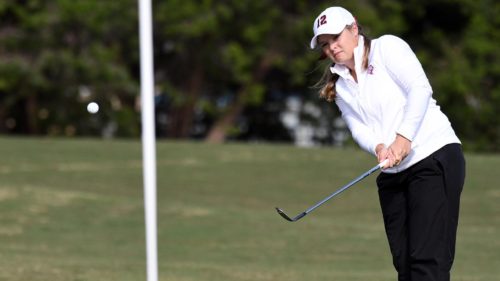 TJGT Alumni Spotlight
Welcome back to the TJGT Alumni Spotlight! In this week's spotlight was coaches favorite on the TJGT, collegiate golfer at Texas A&M University, Courtney Dow!
As a junior golfer, Courtney was ranked a No.9 recruit nationally in the 2016 recruiting class and the No.2 recruit in the state of Texas. She was named a Rolex Junior All-American with 3 AJGA victories under her belt. She competed in 22 tournaments with us on the Texas Junior Golf Tour. Out of those events, she carded 8 championship trophies, 5 runner-up finishes, and 5 Top-5 finishes, most of which events were majors.
As she enters the spring season of her junior career at Texas A&M, she has already accomplished much as an Aggie. Just as a freshman she was named to the SEC All-Freshman team and averaged 73.60 strokes that year. She also shot an impressive 7-under, yes you read that right. 7-under at the Maryb S. Kauth Invitational hosted by UTSA. As a sophomore she broke into the Nationally Ranked Top-100, ranked 84th with an outstanding stat beating 62.5% of her opponents that year. We wish her and the Aggies best of luck in the 2019 Spring Season on their way to conquer a National Championship!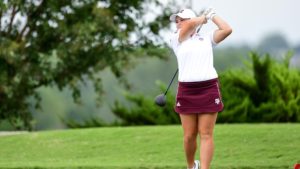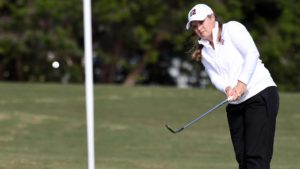 Here's a little more about Courtney!
Name: Courtney Dow
Age: 20
Hometown:  Frisco, Texas
High School: Prestonwood Christian Academy, Class of 2016
College: Texas A&M University
Favorite Golf Course: Kiawah Island
Favorite Golfer: "Babe Zaharias, because of all she did to grow the game for women"
What part of your game are you always working on?
"I'm always working on my short game and putting because it will impact my score a lot more than hitting it a little closer."
What advice would you give to junior golfers?
"Find a balance between competing in events you can win, to learn to win. And competing in events that are a stretch to grow your game, and learn how to get to the next level."
What's your favorite TJGT memory?
"My favorite TJGT memory was the Red River Cup because of all the spirit. It was my first real experience of team golf and to have friends turn into teammates!"