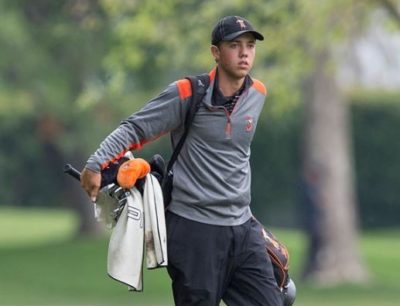 TJGT Alumni Spotlight
Welcome back to the TJGT Alumni Spotlight! In this week's spotlight is former collegiate golfer at Oklahoma State University, Brendon Jelley!
During Brendon's time on the TJGT she competed in 7 events. Of those 7 events, Brendon placed within the Top-3 in 100% of his tournaments. He also carded a wins on the TJGT at the Allen Samuels Junior Championship and one of our most prestigious events, the Red River Challenge at Dornick Hills. He also carded multiple AJGA wins and was named a Rolex All-American Honorable Mention in 2012.
Brendon committed to Oklahoma State University after considering other options at SMU, Texas A&M, Tulsa, Oklahoma, and Arkansas. He redshirted his freshman year in 2013, but things started to pick up after that! He made 12 starts as a cowboy in his first competitive season and was an All-American Big 12 Pick. His sophomore year earned him all-region honors as well as first-team All-Big 12 status and was also names a first-team Academic All-Big 12 selection. He made quite the impact on the OSU Cowboy's team in his 4 years.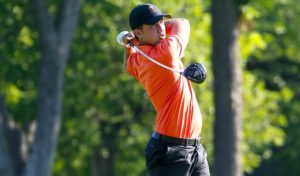 Here's a little more about Brendon!
Name: Brendon Jelley
Age: 24
Hometown:  Tulsa, Oklahoma
High School: Class of 2013
College: Oklahoma State University
Favorite Golf Course: Cypress Point
Favorite Golfer:  Tiger Woods
Biggest Golf Accomplishment:
"3 way tie here: Winning 3 Oklahoma State Amateurs Championships in 4 years, Winning my first college golf tournament at the John Hayt Intercollegiate, or making it to the quarterfinals in the Western Amateur."
What part of your game are you always working on?
"My short game and wedges. Such a high % of shots every round go into the wedge/short game category. Great short game can cover up a lot of mistakes and can also jumpstart your ball striking."
What advice would you give to junior golfers?
"Find what you're best at and perfect it. Every great player I have played with has at least one part of their game that they are REALLY good at."
What's your favorite TJGT memory?
"I always loved playing the Red River tournament at the end of the year. Winning that tournament was another accomplishment that I am very proud of!"