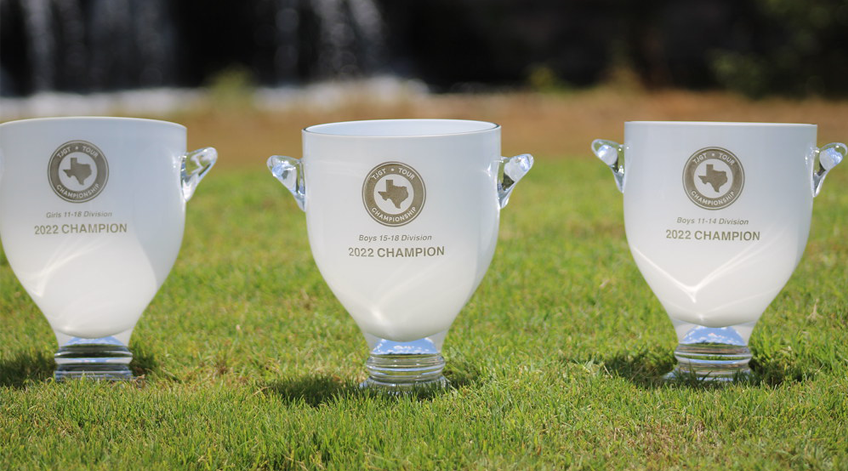 2022 Tour Championship Photo Album | Tournament Leaderboard
[Horseshoe Bay, TX | August 8-9] It may have taken an extra 6 months (due to an ill-timed ice storm in February) but champions were finally crowned at the 2022 TJGT Tour Championship at Horseshoe Bay Resort. For the first time in tournament history, all 3 champions finished under-par of the tournament, and more than 20 players finished at even-par or better, the most in more than 5 years at the Tour Championship.
In the Boys 15-18 Division, Burleson's Blake Keen jumped out to a big lead with an 8-under 64 in round 1 and managed to hang on through the back 9 of the final round to secure 1-shot victory behind hard-charging Samuel Stribling of Georgetown. Jaxon Daniele, Noah Holtzman and Eston Duff rounded out the Top 5.
In the Boys 11-14 Division, Flower Mound's Tyson Embry and The Woodlands' Cooper Paull finished tied at the top at 1-under-par and were forced into a sudden-death playoff. After tying the first playoff hole, Embry nearly aced the par-3 8th, setting up a tap-in birdie and the victory when Paull was unable to convert his own birdie chance.
In the Girls overall division, it was San Antonio's Danielle Bailey who held off Lauren Madson and Kate Pickrell for the 1-shot victory. Bailey, who finished at 4-under for the tournament, made a critical birdie on the par-4 16th hole to give her the space she needed to claim the title. Rounding out the Top 5 in the Girls Division was Westlake's Ashey Kim and Fort Worth's Stalee Fields.