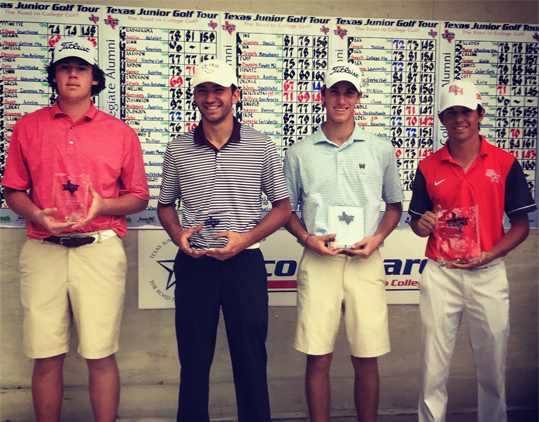 More than 200 of the regions best junior golfers competed against each other on Feb. 11-12 at the Horseshoe Bay Resort in Central Texas to claim the title of 2016/2017 Tour Championship victor. Tournament participants and spectators could not have asked for better weather, as cloudy skies early each morning quickly broke to constant sunshine and temperatures that reached as high as 85 degrees. Both golf courses – Apple Rock, which hosted the Girls 11-18 and Boys 11-14 divisions, and Slick Rock, which hosted the Boys 15-18 division – were in pristine shape, and the beautiful elevation changes, tight fairways and undulating greens provided a stern test for all participants.
BOYS 15-18 DIVISION (SLICK ROCK)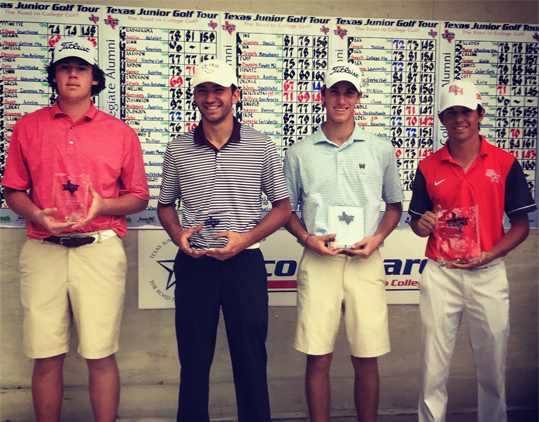 Despite the challenging layout, ideal weather conditions and perfect greens left Slick Rock a bit exposed on Day 1, and many players took full advantage, shooting some of the lowest scores in Tour Championship history. Southlake junior Adam Loeckle set the early pace in Round 1, firing an extremely impressive 5-under round of 67, including a hole-out for eagle on the par-4 18th, and three birdies in his last five holes. Owasso, Okla., native Jared Strathe and College Station's Skyler Eubank stood just one shot behind Loeckle after the first round, each shooting 68. Strathe started out hot, notching birdies in his first two holes, and also closed with a birdie on his last hole of the day. Eubank had a bit more of an up-and-down round, but closed strong with three birdies in his last four holes.
All in all, 11 players broke par on the first day, five of whom shot sub-70 rounds (Kyle Cox of Carrollton and Isiah Henderson of San Antonio both shot first round 69s), and 68 of the 116 players were within 10 shots of the lead.
The weather in Round 2 proved to be just as good as Round 1, but as pressure mounted, birdies became a little tougher to come by. Of those under par after Round 1, San Angelo Senior Jeffrey Maciejewski fair the best on Day 2, backing up his 71 with an impressive 3-under 69, good enough for a 1-stroke victory and the title. 1-over after his first seven holes, Maciejewski went on a tear, carding four birdies in a seven-hole stretch, and finishing with four straight pars to clinch the championship. Just one shot back were Strathe and Cox, both of whom finished at 3-under total for the tournament. Vaulting up 7 spots to claim solo 4th was Houston sophomore Matthew Riedel, who closed with a 2-under 70. Rounding out the Top 5 was Henderson, Eubank, Frisco's Dawson Ovard and Jenson Rogenes, Buda's Jacob Sosa, and Cypress resident Laurence Crea.
In all, 12 players shot under par on Day 2, and the round of the day went to Prosper's Matthew Griggs, who shot a 4-under 68, highlighted by a stretch of five birdies in seven holes.
GIRLS 11-18 DIVISION (APPLE ROCK)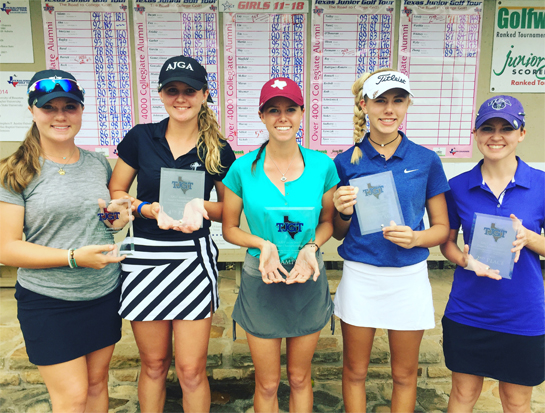 About 2 miles away, 65+ of the regions best female junior golfers squared off on Apple Rock. The course played much tougher than its neighbor, but the cream still rose to the top. After Round 1, Austin's Kaylee Vesely held a three-shot lead after firing a 1-under-par 71. Vesely carded four birdies during her round, including a pair of 2s on par 3s.
Three shots back on Day 1 were a trio of seniors – McKinney's Brett Permann, Mexico's Ana Collado-Diaz and Magnolia's Ava Schwienteck – who all shot 74. San Antonio's Hannah Holzmann rounded out the Top 5 after Day 1, four shots back.
Twenty-two players shot 80 or better during Round 1, and five players were only five shots back of Vesely's lead.
Round 2 saw slightly lower scores on Apple Rock, and in the Girls division, it was a photo finish for the championship. Starting the day six shots back, Austin senior and Texas A&M commit Morgan Lay jumped seven spots with a 1-under 71 to take the title by one shot. Vesely and Permann finished tied for second, one shot behind Lay, and Holzmann and Austin's Makenzie Niblett finished in a tie for fifth.
BOYS 11-14 DIVISION (APPLE ROCK)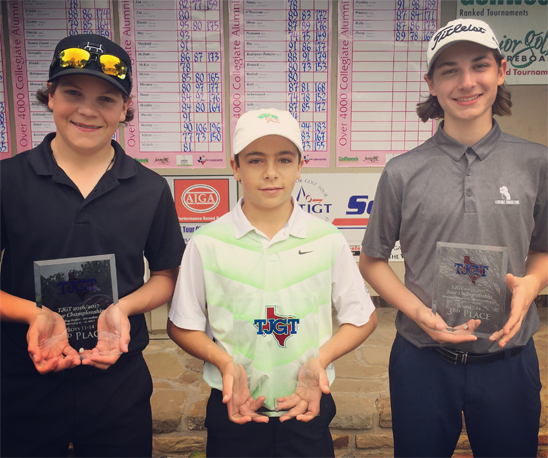 In the Boys 11-14 Division, also played on Apple Rock, five players broke 80 on the first day, in what proved to a difficult day. Leading the pack after Round 1 was Plano's Matthew Comegys who fired a 1-over round of 73, good enough for a three-shot lead. Tied for second after the first day was Fair Oaks' Zach Heffernan and Austin's Brian Comegys.
On Day 2, Heffernan took control of the tournament, shooting a two-over 74 and a two-day total of 150, good enough for a one-shot victory over Matthew Comegys. Coming roaring back from a Round 1 80 was Austin's J. Holland Humphries, who shot 73 to vault himself into solo 3rd.
2016/2017 ALL-TOUR TEAMS
Girls 11-14
Mackenzie Moore – Player of the Year
Melena Barrientos
Ellie Roth
Corey Lopez
Brooke Morales
Girls 15-18
Esther Ahn – Player of the Year
Amelia McKee
Taylor Mieras
Hanna Liu
Rebecca Reed
Boys 11-14
Beau Autery – Player of the Year
Nicholas Hance
Eli Tran
Matthew Comegys
Kolton Nunez
Boys 15-18
Chad Sewell – Player of the Year
Kevin Graves
Fracisco Osio
John Keefer
Clayton King

2017 COACH'S INTEGRITY AWARD RECIPIENTS
Chad Sewell
Class of 2017 | Conroe, TX
Amelia McKee
Class of 2018 | Spring, TX
Aoife O'Donovan
Class of 2017 | Monroe, LA
Matthew Chairuangdej
Class of 2018 | Allen, TX
Madelyn Jones
Class of 2019 | Austin, TX
Santiago Garcia
Class of 2018 | Brownsville, TX